FLO KEEPS EXPO TITLE IN THE FAMILY
On the evening of Friday 23rd October 2009 Borderway Mart, Carlisle was the venue for the popular Northern Expo Dairy Show. A huge crowd turned out to witness an outstanding line up of 90 Entries from over 30 Exhibitors from all over Cumbria, Scotland, Yorkshire, Lancashire and as far a field as Shropshire. This year the show was judged by Spanish breeder Jaume Serrabassa who owns and runs the Comas Novas Holstein herd in the Cataluna region in Spain.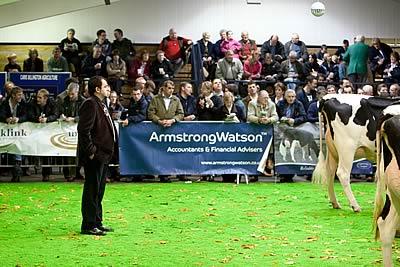 The judge Jaume Serrabassa in action
The show began with the youngest calves led by the young enthusiasts (under 16year olds) of the Holstein breed. Picking up the red rosette in this class was David and Sheila Tomlinson and Family of Preston with their December born calf Bilsrow Olympus Lotto by their home bred bull Bilsrow Olympus and out of an 87 point Gibson. This calf was expertly led into 1st position by Hannah Booth aged 13 of the noted Feizor herd.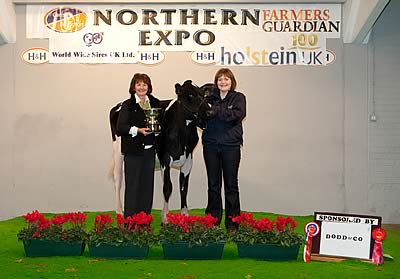 Calf Champion - Sue Armstrong with Gillian Rawcliffe - Exhibitor
The winner of the second calf class came from Almond & Almondene Holsteins from Brydekirk, Annan. This stylish yearling by Karona Bonanza and out of an 88 point Stormatic dam went on to take the Michael Armstrong Perpetual Trophy for the Champion calf, presented by Sue Armstrong. The Reserve Award and the World Wide Sires Trophy went to the second placed calf from class two, Feizor Shottle J Clara by Picston Shottle and out of an 85 point James was shown and bred by WA & A Booth of Old Hall, Feizor.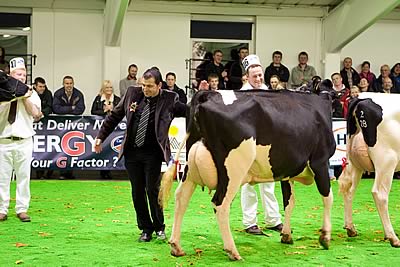 Junior Champion - Holmland Golden Oralie
One of the strongest classes of the evening as ever was the Heifer in milk class which saw the overall Junior Champion and Exhibitor Bred Junior Champion immersing from the senior section of this class namely Holmland Golden Oralie who caught the judges eye, shown and bred by Stephen and Patricia Bell of Forest Hill, Penrith. This homebred December 2006 born Braedale Goldwyn daughter is out of an EX91 Charles. She calved a heifer calf by Durham Ross back in February and has so far given nearly 9,000kgs in 256days at 4.38%BF and 3.26%P. She is currently giving 33kgs daily and is due to calve again in March to La Presentation Denzel. With a Pin value of + £43 this heifer also picked up the Genetic Merit award for having the highest Pin value in the junior section of the show.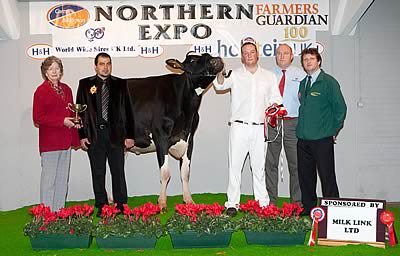 Junior Presentation
The Junior cow in milk class for second calvers was much anticipated and saw the largest class entry of the night and for many years with twenty entries forward the committee took the decision to split the class into a junior and senior section.
This is where the 'Fairytale' begins as the winner of the junior section of second calvers came from Francis, Ann and David Wright's "Berryholme" herd went on to claim the Carrs Billington Agriculture Grand Champion Award.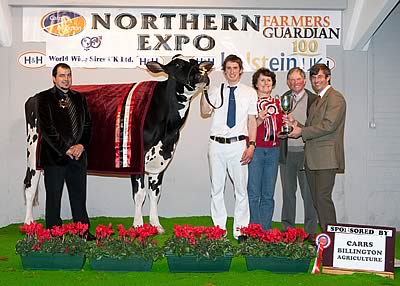 Grand Champion - Berryholme Shottle Flo
This awesome 86 point cow Berryholme Shottle Flo by is none other than an extremely classy daughter out of the great THREE TIMES EXPO CHAMPION (2002 / 2004 / 2006) Holmland Storm Flo EX94 (4) who is now in her 11th year and is said to be looking in great form herself. The Wrights have an incredible cow family developed at Berryholme, Kendal originating from Tony Bell's Holmland herd and showing what an amazing cow family this really is. So carrying on the Flo family tradition Berryholme Shottle Flo was a most worthy winner in her own right and was presented to the highest imaginable standard, a true credit to the Wright family. In her first lactation she gave nearly 10,000kgs @ 4.20%BF and 3.10%P and produced a heifer calf by Talent, and calved her second, a bull calf by Howie in mid August and is currently giving 50kgs daily. Of further interest she has two Full ET Brothers on test, one at ABS and one at Semex.
Flo also picked up the Best Udder In Show award and overall Exhibitor Bred Championship, all on her first time in the show ring and she will be hoping to continue her succession when she travels up to Agriscot in a few weeks time.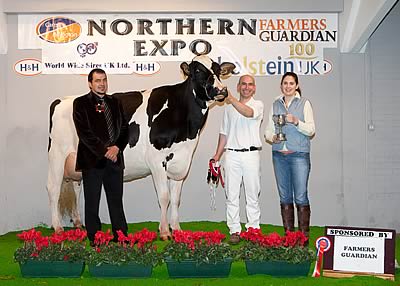 Reserve Grand Champion - Stannock Talent Kiwi VG88
The Farmers Guardian sponsored Reserve Award went to Brian, Val and Craig Davidson of Errolston and Messrs Armstrong of Wolfa for their 88 point daughter Stannock Talent Kiwi VG88. This was another second lactation young cow who stood first in the senior section of exceptional second calvers. She has a maiden heifer by Braedale Goldwyn from her first lactation, which she gave 11749kgs at 3.84%BF in 305days. She calved her second, a bull by Jasper at the end of June and is currently giving 56kgs daily. Kiwi is no stranger to the show ring, she was All Britain Senior Heifer in 2009 and had an amazing 2008 show season in 2008 taking the champion heifer titles at the Royal Highland, Agriscot, Ayr, Dumfries and the Cumberland Shows respectively.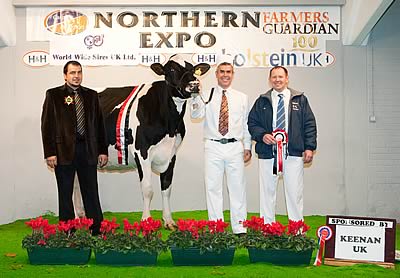 Honourable Mention - Saxelby Goldwyn Rose
The Keenan UK sponsored Honourable Mention title was awarded to Robert and Elaine Butterfield for Saxelby Goldwyn Rose a 90 point young cow who stood second to the champion in her earlier class. In her 1st lactation Rose gave over 8,307kgs @ 4.20%BF & 3.47%P and calved her second, a bull calf by Damion in early July and is currently giving 38kgs daily having gone EX, with her second calf. She has been a prominent winner on the show circuit all summer winning the Reserve champion award at The Great Yorkshire Show and taking the Supreme title at Penrith Show, Westmoreland County Show and Garstang Show. Rose was purchased last year by the Butterfield family, from Andrew and Janet Stafford.
The Overall Reserve Exhibitor Bred award went to a Wormanby Leduc Anita 30 from local breeders Harry, Margaret and David Hodgson of the Wormanby Herd, Burgh By Sands, Carlisle. This 91point, Ex93 Mammary senior cow had seen of strong competition to win the senior cow in milk class earlier in the evening. The evening also saw an award from Holstein UK, The Master Breeders Award which is based on classification and production of a herd and was presented to Harry, Margaret and David Hodgson of the Wormanby herd. The Wormanby herd has 120 cows milking with a herd average of 10,000kgs and has over 35 cows classified Excellent.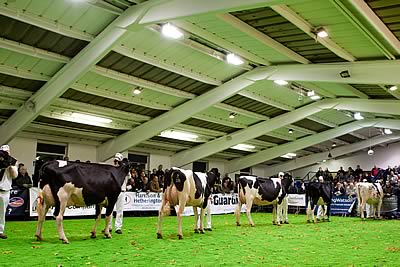 Prize winners line up
Holstein UK sponsored the Premier Breeder and Premier Exhibitor awards at the show which were both awarded to Mark and Diane Wilson and their young family for their Hailstone herd from Little Ormside, Appleby. With nine homebred entries forward they picked up many prize tickets throughout the evening and Son Jack was the youngest handler at five years old in the young calf/handler class with his calf Hailstone TKO Peggy. The Wilson's farm 130 cows and have a rolling herd average of 9,000kgs. They have gathered an impressive list of titles in the Holstein sections this show season including Champion & Reserve Champion - Northumberland County Show, Reserve Champion - Penrith Show, Champion & Reserve Champion – Cockermouth Show, Champion & Reserve Champion – Appleby Show and Champion calf at the Border & Lakeland Calf Show. They also won the Junior and senior heifer in milk classes in the Border and Lakeland summer herd's competition.
With new exhibitors showing every year there is always an award for the exhibitor with the most points in the show, this year it was won by Colin Dent of the Bridge End herd at Kirkby Thore, Penrith who received the Malgar Trophy. The Breeders pair award went to Messrs Oliver of the Ansa herd with The Graham family and their Heathersgill herd taking the reserve spot.
A raffle was also held at the show in aid of the Great North Air Ambulance which raised £420, many thanks to everyone for contributing to this worthy cause.
Once again spectators travelled from far and wide to witness the quality show that THE EXPO produces and were very appreciative of the cattle on show in a ring finished off with green sawdust! Thanks must go to the exhibitors and also to the sponsors whose support makes the show a continued success. The judge Jaume Serrabassa was extremely complimentary about the show "I really enjoyed my visit to England and was very impressed with the outstanding quality of the show. I would like to thank everyone for the wonderful welcome and hope I can return in the future to judge once again".
The show Chairman Tony Burton commented that "This has to be one of the best Expo Shows in recent times and the quality of cattle throughout was truly fantastic and a credit to all breeders and once again thanks to all sponsors especially the main sponsors for their continued support"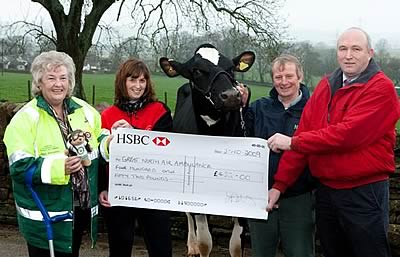 A raffle was held at the 2009 Northern Expo Holstein Show in aid of the Great North Air Ambulance Service. Tickets were only available on the show night and we raised £452.
From left to right are Jan Hawkins (GNAAS); Jenni Wharton, Northern Expo Show Honorary Secretary; the cow is "Holmland Golden Oralie" which won the Junior championship at the Northern Expo Show with owner/breeder Stephen Bell and finally Tony Burthon (Northern Expo Show Chairman)