"FLO" TAKES NORTHERN EXPO BY STORM – FOR THE THIRD TIME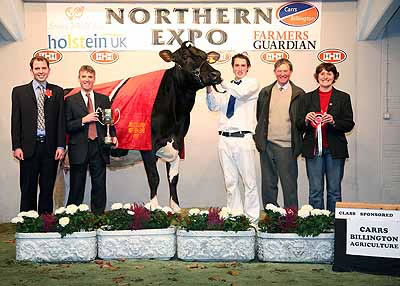 Holmland Storm Flo PI EX94
On the evening of Friday 27th October 2006 Harrison & Hetherington's Borderway Mart was the venue for the 24th Northern Expo Holstein Show. This annual dairy show has without a doubt maintained its reputation as being one of the top Holstein shows in the UK.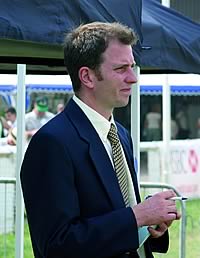 Judge - Paul Miller
The judge for this years show was Paul Miller of the "Shanael" herd who is no stranger to a quality line up of cattle whether it be as a judge as he has been on many assignments his year or holding the halter as a showman.
The 2006 Expo welcomed the judge with an entry of over eighty cattle from more than thirty exhibitors, fifteen of which were new exhibitors to the show from as far a field as Staffordshire and North Yorkshire to compete in one of the most important national autumn show fixtures.
The show kicked off with an extremely well supported youngstock section receiving good encouragement from the increasing crowd. The Michael Armstrong perpetual trophy for the champion calf was awarded to Bilsrow Jordan Shower PI a February 2006 born calf by Jordan and out of an 87 point Gibson was shown and bred by DJ and S Tomlinson of Bilsborrow, Preston and was handled by fourteen year old Louise Hartley. The reserve ticket and Semen World Ltd trophy was won by Ansa SS Molli PI an August 2005 born September Storm daughter shown and bred by P, M, S & A Oliver of Stocksfield, Northumberland. Of further interest both the champion and reserve champion calves sell at the 20th Borderway Black and White Sale on 2nd December.
Picking up the Genetic Merit award for the animal in the junior section of the show with the highest PIN value was Denmire Gibson Marie 42 ET. This August 2005 born calf with a PIN value of +£45 was one of three entries at the show from the Dennison's of Ulverston's well respected Denmire Herd.
Local Holstein enthusiasts Stephen and Ann Morley from Southwaite who are great supporters of the expo show and bring quality every year was highlighted yet again when they were awarded the Junior Championship for their first prize junior heifer in milk Honesberie Gibson Celeste PI VG86. This young heifer by Gibson and bred by Nigel Hollick was purchased by the Morley's at the 2004 Borderway Black and White Sale. No stranger to the show ring this season she has also won the reserve champion heifer award at Skelton Show and came second in her class at Westmorland show. She calved a September Storm daughter on 18th May and is currently giving 32kgs daily at 4.24%BF and 3.21%P. The Reserve Junior Championship and Exhibitor Bred Junior Championship were awarded to the first prize senior heifer Studdah Halogen Dream. This January 2004 born heifer by Inspired Halogen and out of an EX90 (2) Ked Juror was shown and bred by first time exhibitors to expo J Pratt and Son of Leyburn, North Yorkshire.
No one can dispute the champion who now takes top honours at this show for the third time having never been beaten at Northern Expo and keeping her name on the championship trophy sponsored by Carrs Billington Agriculture in even years being 2002, 2004 and now in 2006. This amazing cow Holmland Storm Flo PI EX94 (3) which was purchased from Tony Bell's dispersal sale as a calf and shown yet again Messrs H Wright & Son of Berryholme, Helsington, Kendal, Cumbria looked a true champion as she graced the ring in perfect style and looking in awesome condition. Having calved a bull calf in February by Shoremar James she is still giving 42kgs daily. Flo was also awarded the Production and Inspection trophy and was winner of the Best udder in show. Nevertheless she was in exceptional cow company with one of the best line-ups of Holstein cows expo has ever seen. Taking the reserve prize award was Metcalfe Farms and Riverdane Holsteins with Sedbury Stormatic Crocus EX93 who back in August won the Supreme Interbreed class at Wensleydale Show (her only other outing this year). This third calver who gave over 14,000kgs in her second lactation calved in mid June and is currently giving 55kgs daily at 3.90%BF and 3.00%P (peaking at 65kgs in this lactation). She was greatly admired after taking first prize in her class and also the reserve Best Udder in show award.
Having an exceptional night in the show ring were first time expo exhibitors Paul and Ann Harrison of the "Chishillways" herd from Heddon On The Wall, Newcastle. No strangers to showing cows it was their fifteen year old daughter Joanna who persuaded Mam and Dad to bring the show team to Carlisle last Friday night. Picking up Premier Breeder, Premier Exhibitor, Best New Exhibitor, Breeders Pair, Best Exhibitor Bred and finally Honourable Mention was a fine collection of trophies to be returning home with. It was their second calver Chishillways Gibson Jubilant 126 VG87 having calved at the end of August and giving 44kgs daily at 4.42%BF and 3.14P which caught the judges eye in an outstanding class of second calvers to beat her seven opponents. Jubilant 126 is no stranger to the show ring having won 1st Junior dry cow at both Northumberland and 1st Junior dry cow and Reserve Champion at Allendale Show this year. She can now add the Best Exhibitor Bred animal and Honourable Mention awards at expo to her list of accolades. To partner Jubilant 126 and win the Breeders pair was Chishillways Gibson Gwendoline 42. This stylish heifer which calved early September and is currently giving 41kgs daily earlier in the evening stood third in a strong class of senior in milk heifers. She is again quite used to the bright lights of showing having picked up 1st prizes as an in calf heifer at Northumberland, Great Yorkshire and Allendale Shows and Reserve champion (to another Chishillways heifer) at the Great Yorkshire Show this season alone.
click on images to enlarge

Class S11 Champion Calf

Class S11A Reserve Champion Calf

Class S15 Junior Champion

Judging Class 8 Junior Cow in Milk

Best & Res Best Udder

Judging of Championship

Class S21 Grand Champion

Class S22 Reserve Champion

Class S22A Honourable Mention
Enormous credit goes to all exhibitors from near and far for submitting entries that can only increase the popularity of the Northern Expo Holstein Show as "One of the Best Dairy Shows in the UK".
Thanks go to the judge, Exhibitors and spectators and of course the many, many sponsors especially the main sponsors Carrs Billington Agriculture, Farmers Guardian, Holstein UK and Semen World Ltd for making the 24th Northern Expo Holstein Show a truly memorable event.
Judge's Comment
"A fantastic standard throughout and class winners which would do well at any show. I would rate Northern Expo as one of the best autumn dairy shows in the UK with a large, enthusiastic crowd of spectators for added encouragement"