AN OPEN
HOLSTEIN SHOW

Friday 29th October 2004


prize winners list

THE PERFECT "STORM"
" FLO" TAKES NORTHERN EXPO SHOW 2004 BY STORM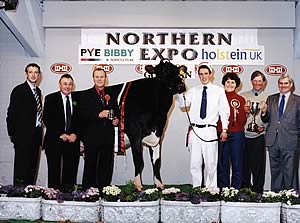 Champion - Holmland Storm Flo
The 22nd Northern Expo Holstein Show attracted 90 cattle from the cream of the country's Holstein bloodlines which were presented to the show's judge Mr Gerald Carter of the recently dispersed "Bricknell" herd from Yorkshire, at Borderway Mart, Carlisle, on Friday evening, October 29th 2004.
The crowd of spectators from all over the UK and Ireland turned out to witness an exceptional line up of dairy cattle.
Thirty exhibitors, with 15 being new to the show, travelled from as far a field as Shropshire, Staffordshire, Wrexham, Cheshire, Lancashire and Yorkshire to compete in what is now one of the most important national autumn show fixtures.

An exciting night's judging climaxed in a breath taking championship line up of cattle with the prestigious Grand Championship award going to the 2002 winner Holmland Storm Flo.

Bred by Tony Bell and sold at his dispersal sale as a calf she was shown in awesome condition by Messrs H Wright & Son of Berryholme, Helsington, Kendal, Cumbria. Flo, an EX93 (2) by Storm having calved her 3rd calf back in March and still giving 46kgs of milk daily has already given 12,132kgs at 4.41%BF & 3.31%P in 208 days she also picked up the Best Udder in show award. She simply graced the ring with her presence as she did in this same show ring two years ago whilst setting off on her fairytale journey.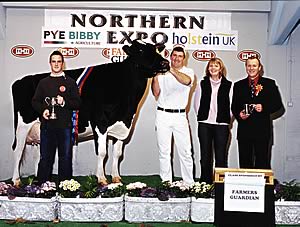 Reserve Champion - Llydan Storm Farrah PI
As one would expect the champion was in excellent cow company. Local breeders and loyal supporters of the show Stephen and Ann Morley of Petteril Bank, Southwaite, Carlisle clinched the Reserve Championship award with an EX94 (2) 4th calver again by Maughlin Storm, Llydan Storm Farrah PI bred by the Allen family.
The Honourable Mention award went to Dave and Sue Berry from Boggart House, Station Lane, Barton, Nr Preston for an 89 point daughter of Robthom Integrity, Boggart Integrity Avril. Earlier in the evening Messrs Berry had enjoyed successes winning the Breeders Pair award, Reserve Best Udder In Show and the prize for the Best Exhibitor Bred Animal.

At the beginning of the evening the Judge faced a new class introduced this year for calves under twelve months old to be led by handlers aged 16 years and under. This class was very well supported with the winning ticket being presented to Mr Andrew Oliver aged 16 with a December 2003 born calf Hunday Allen Rosalind 226 sired by Canyon-Breeze Allen and owned and bred by Messrs E Moffitt & Son of Peepy Farm, Stocksfield, Northumberland.

Taking the championship title for the junior section of the show was Lillyhall Annette PI VG88 sired by Canyon-Breeze Allen, bred by Messrs A & C Watson and shown by David Wright of Berryholme and Wayne Inman of Witherslack.
This extremely tall and correct junior in milk heifer was shown having calved in late July and still giving 48kgs daily. She is out of an 89 point Jolt that gave 11,579kgs in her 1st lactation and carries the Overside prefix of Mr Hugh Neilson. Annette also took home the Genetic Merit trophy for the animal with the highest PIN value in the junior section of the show.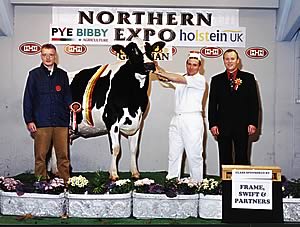 Honourable Mention - Boggart Integrity Avril
The Best New Exhibitor and Premier Exhibitor awards went to J & V Barlow's "Painley" herd from Minshull Hall, Church Minshull, Cheshire and DA Howie & Son's "Morwick" herd, from Acklington, Morpeth, Northumberland picked up the Premier Breeder Award.

After the event the judge Gerald Carter said: "It was everything I expected to see after hearing so much about the high standard of the Northern Expo show. The standard was high throughout from top to bottom of every class with a top class champion."

The champion will now go on to Agriscot where the Northern Expo Committee wish Messrs Wright and Flo every success.

Thanks go to the Judge, Exhibitors, and spectators and of course the many sponsors especially the main joint show sponsors Holstein UK, Farmers Guardian and Pye Bibby Agriculture for making the 22nd Northern Expo Show a truly sensational event.
Photo Gallery
click on images to enlarge
| | | |
| --- | --- | --- |
| Champion | Jnr Champion | Reserve Champion |
| Ring Shot 1 | Ring shot 2 | Ring shot 3 |
| Ring shot 4 | Ring shot 5 | Ring shot 6 |