SENSATIONAL HOLSTEINS ON SHOW AT NORTHERN EXPO
On the evening of Friday 24th October 2008 Harrison & Hetherington's Borderway Mart was the venue for the 26th Northern Holstein Expo.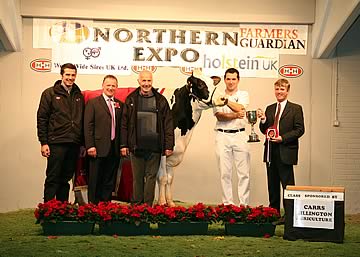 Grand Champion - Denmire Lheros Pamela 8
With a catalogued entry of 75 head from more than 25 exhibitors the crowd were rightfully impressed by the cattle on show which came from all over Cumbria, Lancashire, North Yorkshire and as far a field as Staffordshire to compete in this most prestigious and important evening annual autumn show fixture. It was fantastic to see such a packed ringside with spectators having travelled from all over the UK, to witness yet another great Northern Holstein Expo whose recognition of quality and strength gains credit every year.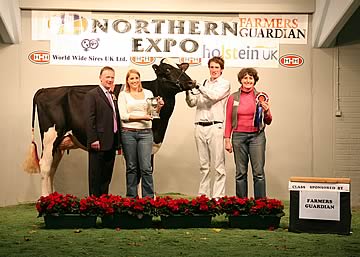 Reserve Grand Champion - Berryholme Goldwyn Maud
Despite the bluetongue zone restricting exhibitors over the Scottish border from attending, numbers were up on the year with the quality of cattle on show said to be the best seen this year, which is a huge credit to the hard work put in by each and every exhibitor.
The Northern Holstein Expo has without a doubt maintained its reputation as being one of the top Holstein shows in the UK. The judge for this years show was Mr Ed Griffiths of the "Coachgate" herd in South Yorkshire who was very complimentary of the show saying "It was so nice to judge so many fresh cows and heifers new into a show ring at this time of year."
To begin the evening was the youngstock section receiving good encouragement from the increasing crowd. The Michael Armstrong perpetual trophy for the champion calf was presented by Sue Armstrong and awarded to DJ & S Tomlinson's December born calf, Bilsrow Shottle Olympia 3 PI. This calf went on to win the calf championship having won the first class of the evening under the young but capable hands of young handler 13 year old Callum Walker. This smart heifer whose pedigree index is currently +£157 is out of a 92 point Gibson who gave 12,436kgs at 4.76BF & 3.43P in her 3rd lactation.
The reserve ticket and World Wide Sires Ltd trophy was won by Hunday Empire Rosalind 239, a January born calf out of an EX91 Hunday Director 2 daughter was shown and bred by E Moffitt & Son of Stocksfield, Northumberland.
Taking the Genetic Merit award for the animal in the junior section of the show with the highest PIN value of +£35 was Ansa Goldwyn Mala Peach PI ET shown by Messrs Oliver & Martin.
The Junior championship was hotly contended, with top honours going to the first time shown Berryholme Goldwyn Maud from H Wright and Son of Kendal who are no strangers to the bright lights of the Expo show ring. This beautiful heifer currently giving 32kgs calved a Shottle heifer calf late in June and is out of an 88 point Igniter. Maud also takes home the Exhibitor Bred Junior championship and Overall Reserve championship prizes. The judge commented – "The junior heifer is the sort you rarely see - 'a true heifer', a true champion with a tremendous future as she matures."
The Reserve Junior Championship was awarded to the second prize junior heifer in milk Feizor Goldwyn P Wendy. This February 2006 born heifer calved a heifer calf in early September and is out of a 92 point Progress. She was shown and bred by WA & A Booth of Old Hall Farm.
The championship, as always, was eagerly awaited and the line up of first prize winners was truly awesome. In the judge's mind there was no need for deliberation as all the sensational cows were presented before him. He was in no doubt that one cow shone like no other, as he picked out Denmire Lheros Pamela 8 as his Grand Champion to a great cheer from the crowd. Pamela a 90 point 4 year old is no stranger to the show ring as she was champion Westmorland Show 2008 and has won top honours in the Border and Lakeland Holstein Club Winter Classic as a heifer and a cow. In her 2nd lactation this awesome cow gave 16571kgs at 3.47BF. She is currently in her 3rd lactation and giving 70ltrs daily. Of further interest is her July born heifer calf by Goldwyn who sells in the 2008 Borderway Black and White Sale.
The judge commented that "The champion cow in particular is the type of cow we should see in the show ring - a balanced cow that will fit into any type of system, commercial or pedigree - 'a true representative of the breed'."
In the top honours list of the Expo show once again and taking the Honourable Mention award were Fred Harrison and Sons from Crossrigg Penrith with the Grand champion from 2005 Ewefields Lucy 7 EX95 (5) who looked in amazing condition and was shown having calved a heifer in early June. Lucy's Daughter Crossrigg Lustre Lucy was also present and won the in-calf heifer class.
Winning the Premier Breeder and Premier Exhibitor prestigious awards were Robert and Elaine Butterfield with their strong team from their Ingleview herd.
Click on image to enlarge

Champion Calf - Bilsrow Shottle Olympia 3

Reserve Champion Calf - Hunday Empire Rosalind 239

Champion & Reserve Champion Calf

Junior Champion - Berryholme Goldwyn Maud

Mega-Moo - Sunnybanks Affirmed Vall ET - Wilson Garnett

Grand Champion - Denmire Lheros Pamela 8

Honourable Mention - Ewefields Lucy 7

Grand Champion & Reserve Champion

Judge - Edward Griffiths
Before the Grand Championship prize was awarded the "Mega-Moo Lotto" draw took place. This competition which the committee introduced for the first time this show was extremely well supported. Five show calves were paraded to the excited crowd and the Show Chairman drew out the ticket for the choice of the calf worth £3000. The winning ticket belonged to one year old William Garnett of Ackenthwaite Farm, Crooklands whose grandparents Wilson, a Northern Expo committee member, and his wife Joan have supported Northern Expo for its 26 years. Wilson chose the calf from The Isles Family of Sunny Bank Farm, Greenhalgh, Preston – Sunnybanks Affirmed Vall on behalf of his Grandson. This December born show calf with a wonderful pedigree is from five generations of Excellent or Very Good cows and is sure to be a fantastic start to this young man's herd – Well done and congratulations to William and the Garnett Family!!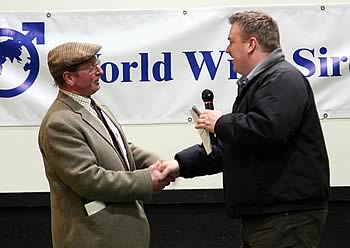 Wilson Garnett collecting the Mega-Moo Lotto prize on behalf of his grandson
The winner of the £100 in the Milk Link sponsored stock judging competition was Pip Senior of High Cross Farm, Grassington, North Yorkshire.
Enormous thanks go to all exhibitors from near and far for submitting entries worthy at any top class dairy show and have yet again promoted THE EXPO as "One of the Best Dairy Shows in the UK".
Thanks also to the judge, exhibitors and spectators and of course the many, many sponsors especially the main sponsors Carrs Billington Agriculture, Farmers Guardian, Holstein UK and World Wide Sire UK for making the 26th Northern Holstein Expo a fabulous event.
---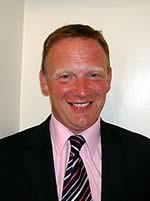 Edward Griffiths
Edward Griffiths farms in partnership with his wife Jenny and his parents on their South Yorkshire Dairy Farm. The Coachgate herd numbers 140 milking cows of which 99% are homebred. They calve all year round achieving a herd average of 9200ltrs.
In 2006 the Coachgate Herd won the best herd on inspection in the Yorkshire Holstein Club Herd competition.
Edwards previous judging appointments include;
European Dairy Event; NISA All Ireland Dairy Cow Championship; United Counties; Royal Show Young Judges; Ayr County Show; Royal Welsh Show, and many other leading shows, calf shows and herd competitions in the North of England.
Edward and Jenny have three daughters who are all actively involved with Young Holstein Breeders and YFC activities.