NORTHERN DAIRY EXPO 2018
The 36th Northern Dairy Expo Show once again displayed some fantastic cattle. This year the exhibitors were under the eagle eyes of Hefyn Wilson of Tregibby Holsteins.
The evening began with the first of three calf classes. The calf born on or after the 1st December 2017 was won by Messers Armstrong's Febuary born calf, Wolfa Solomon Genevieve, with D & J Booths Moortop Callen Hailey 2 in second place.
The August to November 2017 calf class once again saw the Armstrong family rise to the top with Wolfa Atwood Fawn. Second place went to Messers Horsley with Woodcatt Endure Marie. The final calf class saw Robert and Elaine Butterfield's calf take the red rosette, Holben Solomon Enamel. Leanne Hedges, who was exhibiting at the show for the first time stood second with Ingleden Goldwyn Charlie.
An impressive line-up of calves stood before the crowd for the Calf Championship, however Hefyn had no hesitation in tapping out the junior calf, Wolfa Solomon Genevieve as Champion with Reserve going to the same prefix, Wolfa Atwood Fawn. Hefyn commented on the correctness of her legs and the silkyness and openness of the calf.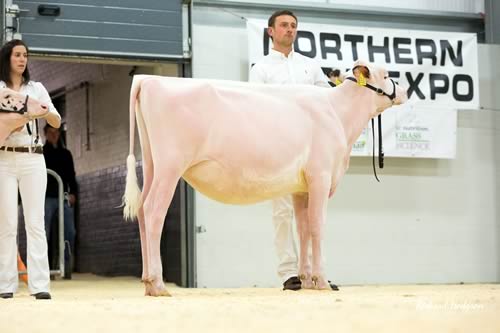 Wolfa Solomon Genevieve - Calf Champion
Moving onto the milking classes, strong entries saw the Heifer in Milk class split into Junior and Senior. WA & A Booth's Feizor Beemer W Wendy stood top of the strong junior heifer class, a youthful heifer with an exceptional mammary system. Second place was D M & J Booth this time with Shawdale Moortop Fitz Pledge, a family that has proven successful for the Booth family on numerous occasions. Winning the Senior Heifer class was Evening Holsteins, Evening Seaver Annette, a big powerful heifer that came to the top of the line quite comfortably. The Heifer Championship saw Feizor's heifer taking the title with Evenings Senior heifer as Reserve Champion.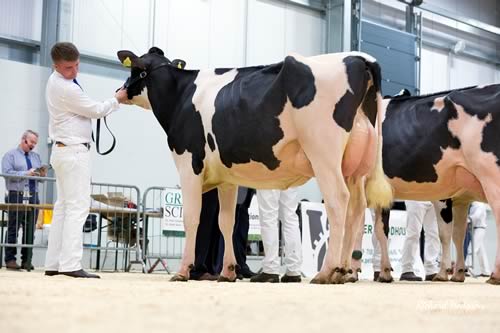 Feizor Beemer W Wendy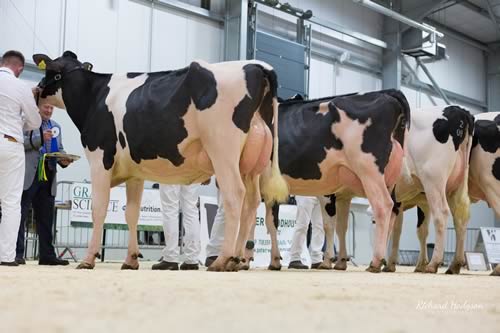 Evening Seaver Annette
It was an R-E-W Seaver daughter again from Evening Holsteins that claimed top spot in the Three Year Old class, Evening Seaver Mischief, a stylish cow with tremendous height of rear udder. Second to her was Ingleview Jane Jareb from the Butterfields.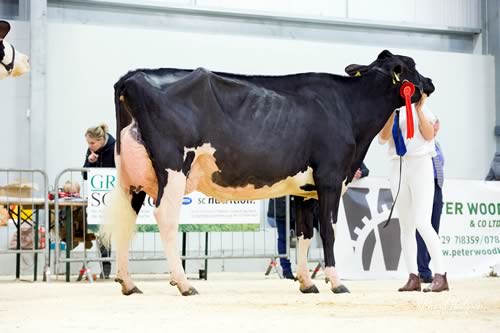 Evening Seaver Mischief
There was only one entry forward in the Four Year Old Class but she did not lack in quality, Ingleden Camelot Monica, a deep bodied, open ribbed cow from the Williamson family.
The crowd watched on as the Championship Line up formed across the ring. Hefyn Wilson commented on the quality of cattle that stood before him. He had no hesitation in tapping out the Four Year Old from the Williamson family as Grand Champion and Best Udder. She showed tremendous quality throughout, a great mammary system and paraded on a fantastic set of legs and feet. It was the quality through the udder that gave her the advantage over Evening Seaver Mischief taking Reserve Champion.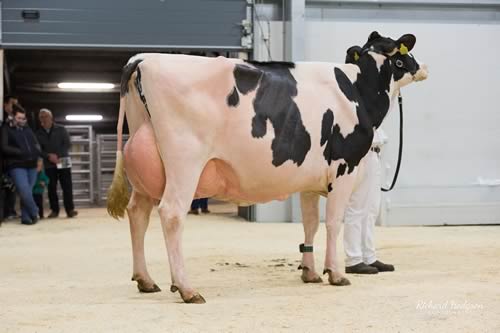 Champion - Ingleden Camelot Monica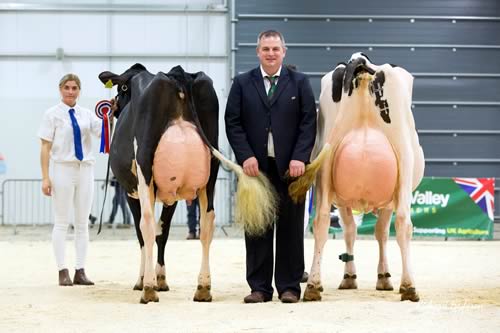 L Reserve Champion R Champion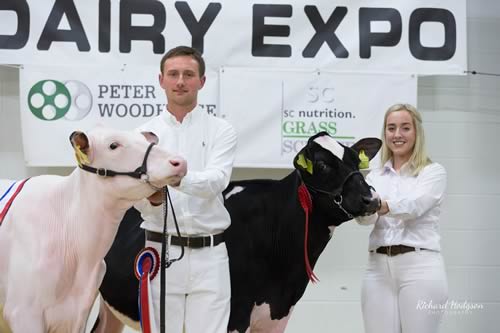 Champion & Reserve calves