NORTHERN DAIRY EXPO 2017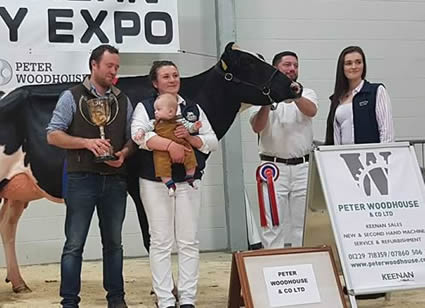 Grand Champion 2017 - Littlebridge Goldchip Honey
The 35th Northern Dairy Expo saw an earlier date this year on Friday 1st September 2017 and with this came a few new faces to the expo ring. The best weather for many weeks kept a few exhibitors away, the show may have lacked numbers but it certainly didn't lack quality. This year's judge was Mr Andrew Cope from the world renowned Huddlesford herd in Staffordshire.
The evening began with the showmanship classes where Mr Cope put the under 18 year olds through their paces. Robert Morley of Petteril Holsteins from Southwaite, Carlisle was triumphant keeping his cool throughout the class.
A very strong line up of calves followed,the youngest calf class was won by a very stylish calf bred and exhibited by Messers M Armstrong from Penrith, Cumbria, Wolfa Solomon Fleur. Although she was the second youngest in the class she still stood out above the rest. The next class was the strongest of the night in term of numbers with 8 entries forward and it was won by J L Miles and Son from Northallerton with the August born Littlebridge Goldwyn Sonya. Mr Cope admired the correctness of this calf in the way she handled her legs on parade as well as the style and openness of her rib.
The final calf class was won by C & A J Woodhouse with Shoreline Mesdoor Molly a June born heifer. The Woodhouse family are no strangers to success at the Northern Expo having won the calf Championship here in previous years.
The calf classes culminated with the championship where Andrew Cope had no hesitation in tapping out Littlebridge Goldwyn Sonya as Champion calf with Wolfa Solomon Fleur in reserve. The Miles family have had a very successful summer with Sonya winning at the North Yorkshire Show and she was Reserve Interbreed Maiden heifer at the Great Yorkshire Show.
Moving onto the milking classes the Miles family yet again saw success in the Heifer in milk class with Littlebridge Goldchip Honey, a tremendous young heifer that oozed dairy quality, displaying a fantastic mammary system and great balance throughout. Taking the three-year-old class was Messers Williamson from Calthwaite, Penrith with Ingleden Goldfish Galilee. Evening Holsteins from Thursby, Carlisle won the four-year-old class with Warnelview Cup Irene.
When time came to tap out the Grand Champion Andrew Cope had no hesitation in tapping out the Littlebridge Goldchip Honey with Warnelview Cup Irene in reserve. Mr Cope noted that this heifer could go to any show across the country and challenge for the top spot.
The Northern Expo would like to take this opportunity to thank its sponsors in particular their headline sponsor Peter Woodhouse & Co without who the show would not take place.