NORTHERN DAIRY EXPO 2016
REPORT
The 34th Northern Dairy Expo may have been slightly down on numbers this year but it was certainly not lacking in quality, with plenty of spectators looking on, the judge for the evening was Mr David Gray from East Kilbride.
The evening began with the showmanship competition seeing the ever competent Jonathan Woodhouse from Bootle, Cumbria taking the Champion title with Anna Goldie from Northallerton closely following in Reserve. Mr Gray commented on Jonathan's calmness and skill throughout the competition.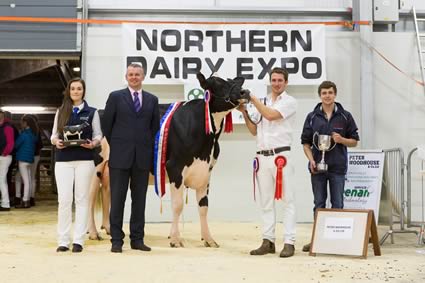 Grand Champion 2016 - Berryholme Sid Yvonne
The Calf Championship saw the Yates family from Castle Douglas claiming the top spot with the July 2015 born Logan Doorman Ambrosia. Reserve came from the same holding but this time owned and exhibited by Emma Jones with Showgirl Doorman Sara, a December 2015 born calf. The judge admired the style and openness of both of these calves.
Moving onto the milking classes the Junior Championship which was won by W. A & A. Booth from Feizor, Lancaster with Feizor Gold Chip S. Lana and D. M & J. Booth from Earby, Lancashire stood Reserve with Shawdale Moortop Atwood Pledge, both two year olds. The Booth family also had success with Lana at this year's Westmorland County show where she was Reserve Holstein Champion.
Blythbridge Dude Pamela from the Laird family was placed 1st in the three year old class followed by last year's Junior Champion Feizor Shadow T. Wendy. A strong class of powerful milk cows showing great dairy quality.
Class 7 saw the four year olds where Berryholme Sid Yvonne from the Wright family of Kendal, Cumbria took the red rosette. She is an extremely well balanced cow with a fantastic mammary system carrying her milk high and wide, with lovely texture to the udder. Evening Million Marian stood second from the Wilson family, Carlisle Cumbria.
The five year old class was again won by the Laird family with Blythbridge Atlantic Joyce. The Mature cow class followed with Lawrence family claiming top spot with Lordsplain Ross Ruby, closely followed by C & A. J. Woodhouse with Shorline Shottle Honey.
As the crowd watched on to listen to David Gray say what a great display of cattle he had in front of him as the Grand Champion was awarded to the Wright family's Berryholme Sid Yvonne. She also claimed Exhibitor Bred Champion and Best Udder in show. Reserve went to Blythbridge Dude Pamela and Honourable Mention to the milking heifer Feizor Gold Chip S. Lana.
The Northern Expo Show committee would like to thank all our sponsors and exhibitors without whom the show would not be possible, in particular Peter Woodhouse & Co Ltd the shows main sponsor.