NORTHERN DAIRY EXPO 2014
Press Release - 23rd June 2014
Scotsman crossing the border into English territory to judge the 32nd Northern Dairy Expo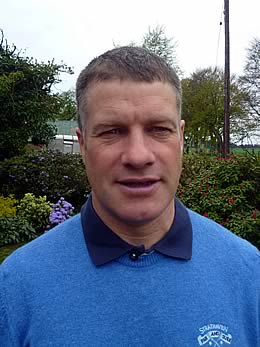 Hugh Neilson
The 32nd Northern Dairy Expo committee is thrilled to have Hugh Neilson of East Brackenridge, Strathaven, South Lanarkshire to be Master Judge for this year's show. Hugh has many years of experience of showing and judging Holstein cattle as well as running the renowned "Overside" herd of Holsteins at home in Scotland.
We are very proud to have the fantastic support of our sponsors and can announce that Newton Rigg College part of Askham Bryan group and New Breed (UK) Ltd to be our joint main sponsors again this year.
The £2.4 million college dairy officially opened in the spring and with the unit now up and running we are hoping that the students will be taking to the show ring with cattle from the newly formed "Newton Rigg" herd. The college has already started to notch up some prizes with a 1st Heifer in the Border and Lakeland Winter Herd Competition – so definitely one to watch.
New Breed (UK) Ltd has also had a busy year with the launch of their Cow Watch Report. This consolidates the information from Inter Herd into a two page worksheet. This allows management and nutrition to pull together for the high yielding cow, enabling them to achieve their full genetic potential.
Back by popular demand - we are delighted to announce that the show this year is once again on a Friday night and the date for your diary is Friday 3rd October 2014.
Also back by popular demand is the reintroduction of the stock judging class - so everyone can have a go at being master judge and the prize money for the lucky winner will be tempting. Well worth a try!
So while only the cattle need passports let the battle of the border begin and book Friday 3rd October 2014 in your diary for a truly great evening of dairy strength and excellence to be seen anywhere in the country right here on your doorstep in the Borderway Auction Mart, Carlisle.
The accolade of Supreme Champion is up for grabs and with some of the best cattle in the country available to view I highly recommend making a trip to Carlisle.
Hugh Neilson farms 350 acres in partnership with his parents and wife Liz at East Brackenridge, Strathaven in South Lanarkshire.
The farm is situated 800 feet above sea level and home to Overside Holsteins where 300 holstein cows are milked twice daily averaging 10000kg, 3.8bf and 3.1 protein on a diet of predominately grass silage, home grown wholecrop and purchased straights.
Hugh and Liz have three sons aged 23, 21 and 19 of which the younger two are keen to continue the farming tradition. In his spare time he enjoys playing golf and curling.