GAIL MAKES WAVES AT THE DAIRY EXPO
The 29th Northern Dairy Expo took place on Friday 21st October at Borderway Mart, Carlisle. A strong show of cattle was exhibited before this years judge Giuseppe Beltramino who owns the renowned "Bel" herd in Italy.
The show got under way with a large class of Junior calves led by a handler under 16 years of age. After much deliberation it was Aliann Alexander Miss Lolli owned by JD & JA Holgate and led by Elliott Jackson that was placed first. A January born Golden-Oaks ST Alexander daughter out of a VG89 2nd calved Goldwyn backed by 7 more generations VG and EX. Lolli later received the World Wide Sires trophy for the Reserve Calf Championship.
Grand Champion; from left : Marion Challenor - WWS, Giuseppe Beltramino -Judge, Brian Yates, Michael Yates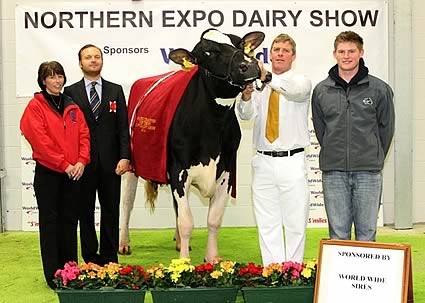 The Calf Champion title & winner of the Michael Armstrong Perpetual Trophy, presented by Sue Armstrong, was awarded to the winning Intermediate calf Shawdale Damion Pledge 2 ET bred and exhibited by Messrs Booth. This beautiful August 2010 born Erbacres Damion daughter is out of ALH Polly VG89 2nd calver, which in her heifer lactation produced 10363kg @ 5.21% BF and 3.47%P in 305 days. Handler Jenny Booth also took home the Malgar Trophy for this years best new exhibitor.
Calf Champion L-R; Giuseppe Beltramino, Jenny Booth & Susan Armstrong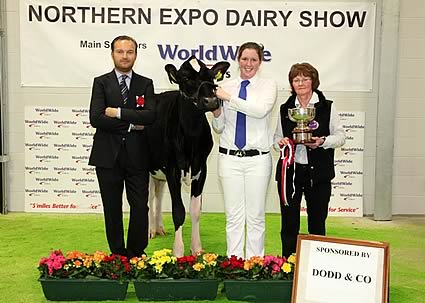 The winner of the Genetic Merit award and the HSBC Bank Trophy was also in this class. Ortongrange ManO Polly, bred & exhibited by Messrs JA Martin of the Ortongrange herd based near Carlisle. Polly has a PIN value of £45 and is a Long-Langs Oman Oman daughter out of the dam of the Calf Champion, ALH Polly VG89.
In the final calf class it was Sarah Liddle of Dalesend Holsteins who was pulled into first place with Dalesend Drake Rena. Born in June 2010 Rena is by Far-O-La Debbie Jo Drake and out of the 91 point third calved Dalesend Lyster Rena.
The first in-milk class was Junior heifers, B & V Davidson took home the red ticket and also went on to claim the Reserve Junior Championship and the Reserve Exhibitor Bred championship with their heifer Errolston Lotto Sarah. The heifer has already been classified VG86 and is by the homebred Goldwyn son Errolston Lotto.
Fred Harrison & Sons of Crossrigg, Penrith won the Senior Heifer class with their November 2008 born Crossrigg Pageant Roxy, sired by Winton Pageant and out of Crossrigg Rudolph Roxy EX91. She scored 85 points 2 week ago having calved in July. Roxy went on to take home the Garnett Trophy for Junior Champion and the W Parsons Perpetual Trophy for Exhibitor Bred Junior Champion, (which was also won by the same exhibitor last year) This fantastic heifer featured throughout the evening going on to win Honourable Mention in the Grand Championship.
Junior Champion L-R; John Harrison, Giuseppe Beltramino, Alysha Barraclough and Charlotte Fisher of West Point Vets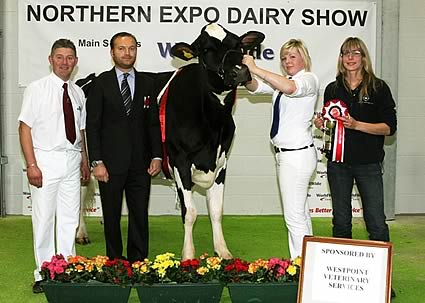 Moving into the In Milk cow classes, the biggest and strongest class of the evening exhibited before Giuseppe was the Junior Cow in milk, which had 11 fantastic cows all of which were exhibitor bred and a credit to their owners. Winning the class was Logan Mr Sam Gail from Brian Yates, she calved her second at the start of July and is awaiting reclassification having scored the maximum 89 points as a heifer. Gail was sired by Regancrest Mr-Drham Sam and is backed by 8 generations of VG & EX dams including A-Jim-Mar-D Astronaut Tina.
Reserve Grand Champion from left; Tim Gibson and Mick Kirk (Lely), Alasdair Smith, Janeen Smith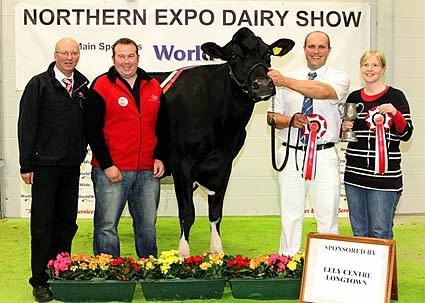 The Intermediate Cow in milk saw Mark & Diane Wilson of Appleby, Cumbria standing at the top with their third calver Hailstone Performance Agatha EX92, sired by Mr Paradise Performance. Agatha has stood at the top at many shows this year including Grand Champion at Appleby and Reserve Grand Champion at Westmorland Show. Mark & Diane were named Premier Breeder & Premier Exhibitor with all 5 of their entries being home bred.
Carkin Goldwyn Elly EX93 gave Messrs A & JE Smith their red rosette having won Senior Cow in Milk. This very stylish black cow is a five year old Braedale Goldwyn daughter who gave 10490 litres at 4.58%BF in her third lactation, she calved her fourth at the end of July.
As the Championship prizes commenced it was Logan Mr Sam Gail VG89 shown by Brian Yates' that took top honours having earlier won the Junior cow in milk class. Giuseppe showed no hesitation in tapping her out as the World Wide Sires sponsored Grand Champion and the winner of Best Exhibitor Bred animal.
Last years best new exhibitor A & JE Smith of Richmond, North Yorkshire won the Lely Centre in Longtown Sponsored Reserve Championship and the Carter Trophy, as well as the Reserve Best Exhibitor Award and the Reserve Best Udder in Show with their Senior Cow in Milk Carkin Goldwyn Elly EX93.
Taking home the John Dentice Trophy for Best Udder in Show was Messrs T Graham & Son with Heathersgill Sam Bella VG89, shown on the night by Lee Graham. Heathersgill Sam Bella calved her second at the end of June and is a Regancrest Mr-Drham Sam daughter.
Once again exhibitors and spectators travelled from far and wide to Carlisle for a terrific evening, cattle of all ages competed for the prestige of being the Northern Expo Champion which made for an enjoyable evening for all.
NORTHERN EXPO PRIZE WINNERS – 2011
Class One HEIFER CALF Born on or after 1st Dec 2010 – to be led by a handler aged Under 16 years
Prizes sponsored by BORDER & LAKELAND HOLSTEIN CLUB
1st JD & JA Holgate Aliann Alexander Miss Lolli
2nd B Lawrence Highoaks Jordan Roxy 15
3rd J Bristol Claremont Loader Lira
(10 Entries Forward)
Class Two HEIFER CALF Born between 1st Aug 10 and 30th Nov 10
Prizes sponsored by LANCASHIRE HOLSTEIN CLUB
1st DE, MA & JA Booth Shawdale Damion Pledge 2
2nd DR & HM Horsley Woodcatt Goldwyn Roxy
3rd B Lawrence Lynholme Knowledge Squaw
(9 Entries Forward)
Class Three MAIDEN HEIFER Born between 1st April 10 and 31st July 10
Prizes sponsored by BVL
1st Dalesend Farms Dalesend Drake Rena
2nd M Harper Miltonmains Jasper Augusta
(2 Entries Forward)
S11 CHAMPION CALF The Michael Armstrong Perpetual Trophy donated by the
Armstrong Family, Wolfa
Prizes sponsored by DODD & CO ACCOUNTANTS
DE, MA & JA BOOTH – SHAWDALE DAMION PLEDGE 2
S11A RESERVE CHAMPION CALF The Semen World Ltd Trophy
Prizes sponsored by WORLD WIDE SIRES UK LTD
JD & JA HOLGATE- ALIANN ALEXANDER MISS LOLLI
Class Four HEIFER IN CALF Due to calve at under 36 months
Prizes sponsored by LONGLANDS HOTEL
1st DR & HM Horsley Carrock Buckeye Royal
2nd Dalesend Farms Dalesend Atlas Amanda
3rd J Fisher Mossrigg Princess Foggathorpe 5
(3 Entries Forward)
Class Six A JUNIOR HEIFER IN MILK Entries must of calved under 36 months
Prizes sponsored by DUGDALE NUTRITION
1st B & V Davidson Errolston Lotto Sarah VG86
2nd DJ & S Thomlinson Bilsrow Olympus Iloa VG86
3rd M & D Wilson Hailstone Bolivia Maybelle VG86
(5 Entries Forward)
Class Six B SENIOR HEIFER IN MILK Entries must of calved under 36 months
Prizes sponsored by HARRISON & HETHERINGTON LTD
1st F Harrison & Son Crossrigg Pageant Roxy VG85
2nd F Harrison & Son Crossrigg Carisma Lucy VG86
3rd M & J Bristol Claremont Laurin Spottie VG87
(4 Entries Forward)
S13 GENETIC MERIT AWARD The HSBC Bank Trophy will be awarded to the animal
in the junior section of the show with the highest PIN value
Prizes sponsored by SEMEX UK
M/S JA MARTIN – ORTONGRANGE MANO POLLY
S15 JUNIOR CHAMPION The Garnett Trophy
Prizes sponsored by WESTPOINT VETERINARY GROUP
F HARRISON & SONS - CROSSRIGG PAGEANT ROXY VG85
S15A RESERVE JUNIOR CHAMPION
Prizes sponsored by ARMSTRONG WATSON
B & V DAVIDSON – ERROLSTON LOTTO SARAH VG86
S16 EXHIBITOR BRED JUNIOR CHAMPION The W Parsons Perpetual Trophy
Prizes Sponsored by GENUS
F HARRISON & SONS CROSSRIGG PAGEANT ROXY VG85
S16A RESERVE EXHIBITOR BRED JUNIOR CHAMPION
Prizes sponsored by MSD
B & V DAVIDSON – ERROLSTON LOTTO SARAH VG86
Class Seven JUNIOR COW IN MILK Entries must have calved twice
Prizes sponsored by MTS AGRICULTURAL SERVICES LTD
1st B Yates Logan Mr Sam Gail VG89
2nd T Graham & Son Heathersgill Sam Bella VG89
3rd K & C Wilson Warnelview Spirte Biddy VG87
(10 Entries Forward)
Class Eight INTERMEDIATE COW IN MILK Entries must have calved three times
Prizes sponsored by CATTLE INFORMATION SERVICES
1st M & D Wilson Hailstone Performance Agatha EX92
2nd J Pratt & Son Tarnbrook Rita 2 EX92
(2 Entries Forward)
Class Nine SENIOR COW IN MILK Entries must have calved four times or more
Prizes sponsored by LKL
1st A & JE Smith Carkin Goldwyn Elly EX93
2nd B & V Davidson Errolston Champion Belle 2 EX92
3rd M & D Wilson Hailstone Geno Sunray EX94
(3 Entries Forward)
Class Ten PRODUCTION & INSPECTION One point awarded per kg of Fat and Protein.
Inspection points to a maximum of 1000. The highest combined score will be
Awarded the Hilltop Trophy
Prizes sponsored by SEAGROW
1st B & V Davidson Errolston Champion Belle 2 EX92
2nd M & D Wilson Hailstone Geno Sunray EX94
(2 Entries Forward)
S12 BREEDERS PAIR The Charles Lawson Perpetual Trophy
Prizes sponsored by DUERDENS
F HARRISON & SON "CROSSRIGG"

S12A RESERVE BREEDERS PAIR
Prizes sponsored by HOLSTEIN UK
B & V DAVIDSON "ERROLSTON"
S14 BEST UDDER IN THE SHOW John Dentice Trophy
Prizes sponsored by WORLD WIDE SIRES
T GRAHAM & SON – HEATHERSGILL SAM BELLA VG89
S14A RESERVE BEST UDDER IN THE SHOW
Prizes sponsored by SHOWTIME
A & JE SMITH – CARKIN GOLDWYN ELLY EX93
S17 BEST EXHIBITOR BRED ANIMAL Tony Hackett Model Cow Trophy
Prizes sponsored by COGENT UK
B YATES – LOGAN MR SAM GAIL VG89
S17A RESERVE EXHIBITOR BRED ANIMAL
Prizes sponsored by NMR
A & JE SMITH – CARKIN GOLDWYN ELLY EX93
S18 BEST NEW EXHIBITOR AWARD The Malgar Trophy
Prizes sponsored by LELY CENTER IN LONGTOWN
DE, MA & JE BOOTH "SHAWDALE"
S19 PREMIER BREEDERS AWARD
Prizes sponsored by WESTPOINT VETERINARY GROUP
M & D WILSON "HAILSTONE"
S20 PREMIER EXHIBITORS AWARD
Prizes sponsored by HOLSTEIN UK
M & D WILSON "HAILSTONE"
S21 GRAND CHAMPION The Carrs Billington Agriculture Trophy
Prizes sponsored By WORLD WIDE SIRES
B YATES – LOGAN MR SAM GAIL VG89
S22 RESERVE CHAMPION The Carter Trophy
Prizes sponsored by LELY CENTER IN LONGTOWN
A & JE SMITH – CARKIN GOLDWYN ELLY EX93
S22a HONOURABLE MENTION
Prizes sponsored by HOLSTEIN UK
F HARRISON & SON – CROSSRIGG PAGEANT ROXY VG85
S 23 HERDSPERSON In charge of the Grand Champion will receive prizes sponsored by NORTHERN EXPO SHOW COMMITTEE
TREVOR HOUGH
S24 HERDSPERSON In charge of the Reserve Champion will receive prizes sponsored by NORTHERN EXPO HOLSTEIN SHOW
ALISTAIR SMITH