RICKI TAKES TOP HONOURS AT EXPO
The eagerly awaited annual Northern Expo Holstein Show took place on the evening of Friday 22nd October 2010 at Borderway Mart, Carlisle. A catalogued entry of over ninety Holsteins from over thirty herds from all over Cumbria, Northumbria, Lancashire, Yorkshire and South West Scotland were presented to this year's judge Mr Paul Harrison of the "Chishillways" herd.
Champion, Errolston Damion Ricki VG85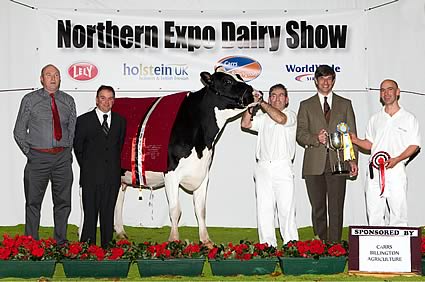 Paul said "this is one of the best shows I have ever judged with quality right down the line and it was an honour to judge the Show. The cow I selected as my Champion, Errolston Damion Ricki VG85, owned and bred by Brian, Val and Craig Davidson, is a wonderfully balanced cow that will fit into any cubicle system".
The show commenced with the youngest calves led by handlers under 16 years of age. This class was well supported with nine entries forward and the red ticket went to DP & SJ Berry of Preston's Boggart Twine Avril 2 ET. This very stylish December 2009 born calf is by Braedale Goldwyn and out of an EX94 (3) LP80 SP Integrity dam who has given over 11,000kgs in all of her five lactations. Avril 2 was expertly shown in the hands of 14 year old Natasha Kirby of Absolute Holsteins and went on to become Reserve Champion Calf and lift the World Wide Sires trophy.
Champion Calf, Lillyhall Sanchez Bonita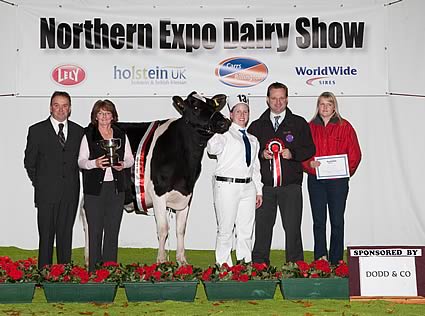 The Champion Calf title and the Michael Armstrong Perpetual Trophy, presented by Sue Armstrong, was awarded to the winner of the second class for heifer calves, Ruth Watson and Riverdane Holsteins Lillyhall Sanchez Bonita. This beautiful August 2009 born calf is by Gen-Mark Stormatic Sanchez and out of the 89 point Overside Mr Sam Bonita who in her 2nd lactation gave 13,606kgs @4.53%BF in 305days.
Junior Champion, Crossrigg Altitude Tilly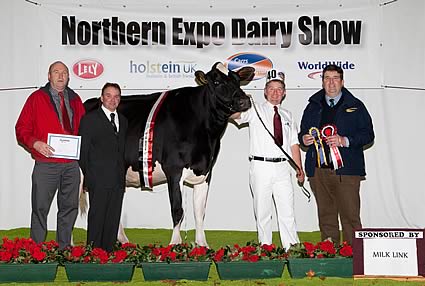 The Heifer in milk class was particularly well supported as always and was split by age into the junior and senior age groups. The junior section was won by Fred Harrison & Sons of Crossrigg, Penrith with Crossrigg Altitude Tilly, a February 2008 born heifer by KHW Elm-Park Acme and out of an 8th lactation, 100 tonne 88 point Rudolph which was purchased from Alan Bristow's "Alanta" dispersal sale. Her grandmother was imported from Canada at took the Champion Heifer award at the royal show back in 1989. Tilly calved three months ago and is currently giving 40kgs daily. This phenomenal heifer went on to collect the Junior Champion and Exhibitor Bred Junior Championship awards.
The first prize senior heifer, Reserve Junior Championship and Reserve Exhibitor Bred Junior Championship were awarded to Messrs Armstrong of Wolfa, Penrith with Wolfa Goldwyn Kiwi VG85. This October 2007 born heifer by Braedale Goldwyn is out of the 89 point SP Stannock Talent Kiwi who in her 2nd lactation gave 12,726kgs @3.53%BF in 305days and with a PIN value of +37 Goldwyn Kiwi also picked up the Genetic Merit award.
The junior cow in milk class for second calvers was very much anticipated and with a dozen entries forward the class was split into a junior and senior section. This class saw some exceptional cattle brought forward with the Carrs Billington Agriculture Overall Championship and Overall Exhibitor Bred Championship being awarded to the 1st place junior cow in milk who was selected from a truly outstanding line up of cattle from connoisseurs of the Holstein breed and keen supporters of the expo show Brian, Val and Craig Davidson from Gretna with their home bred junior cow Errolston Damion Ricki VG85 who joins the roll of honour for outstanding expo champions, and on her first time in the show ring. Ricki was born in March 2007 and was shown having calved mid-August and currently giving 48kgs daily. Ricki is by Erbacres Damion and out of the 2nd lactation 13,535kgs @ 4.60%BF in 305days Stannock Formation Ricki EX93 (2) LP60 SP who won Champion heifer at Agriscot in 2002 and was Champion at the Royal Show, Royal Highland how and Dumfries Show in 2004. The Davidson family had a fantastic evening and were rewarded for all their efforts by collecting the Breeders Pair award and the awards for the Premier Breeder and Premier Exhibitor after bringing an outstanding line up of seven cattle to be shown in total.
Reserve Champion, Abbeyhouse Gold Peach VG89 SP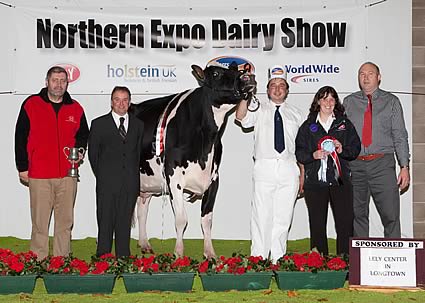 The Lely Center in Longtown sponsored Reserve championship award along with the Reserve Exhibitor Bred Award was presented to the senior second calver Abbeyhouse Gold Peach VG89 SP from Andrew Jennings of Jennings Farmers from Ripon in North Yorkshire. This April 2006 born second calver last calved back in April and is currently giving 50kgs daily. No stranger to the show ring Peach won the Reserve Championship and Junior Championship at The Yorkshire Show in 2008 and the Yorkshire herd competition as a heifer in 2008. She gave 11,940kgs @ 4.62%BF in 305days as a heifer and is out of the EX93 (2) Bricknell Gibson Peach.
The Keenan UK sponsored Honourable Mention title was awarded to Messrs C Dent of Bridge End, Kirkby Thore for their senior July 2005 born cow in milk Ensdon Iron Maxine EX93. Maxine who was purchased mid lactation by the Dent family last year from Cheshire is by Boss Iron and was shown in her fourth lactation having calved in April and is currently giving 44kgs daily.
Best Udder, Bridge End Modest Jeanie VG89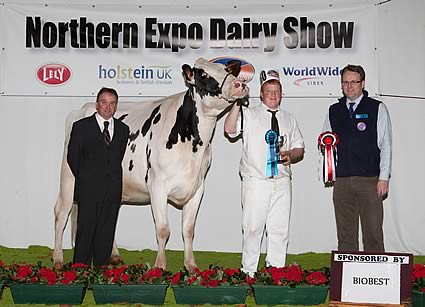 The award for the animal with the Best Udder in The Show was awarded to the Dent's homebred junior cow in milk Bridge End Modest Jeanie VG89 who earlier in the evening stood second in her class to none other than the Overall Champion Errolston Damion Ricki VG85. This classy 2nd calver who caught the judge's eye is by Regancrest-LH Modest and out of an 86 point Igniter. Jeanie was shown having calved only three weeks ago and giving 45kgs daily. In her 1st lactation she gave 10,661kgs @ 3.44%BF in 305days.
With new exhibitors showing every year there is always an award for the new exhibitor with the most points in the show, this year the title was won by A & JE Smith with their "Carkin" herd who travelled from Richmond in North Yorkshire.
Mega Moo calf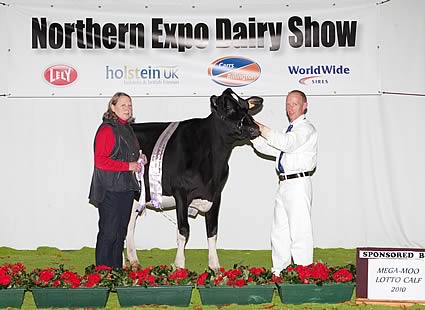 Along with the exciting show on Friday night the "Mega Moo 2 Lotto" was drawn, [results] where spectators had the chance to win a calf worth £3000 and had to choose from four calves. Tickets had been on sale before the night and the last ticket, number 100, was auctioned on the night for charity by Harrison & Hetherington's expert dairy auctioneer, Glyn Lucas, and realised £400 - selling to Mr Wilson Garnett of Milnthorpe whose grandson won the Mega Moo Calf two years ago at the show. Wilson selected Breast Cancer care as the nominated charity. The winner of the calf was Jane Hunter of Preston whose mother Janet Eastham was at the show to choose the calf on Jane's behalf. The calf selected was Carhall Rampage Peggy a May 2009 born beautiful show calf by Rosedale-L Rampage Red and out of Carhall Derry Peggy. The calf was presented by Ian & Joyce Mallinson of the "Carhall" herd from Armathwaite, Carlisle and they receive £3,000.
Once again spectators travelled from far and wide to witness the quality show that THE EXPO produces and were very appreciative of the cattle on show in a ring finished off with green sawdust!
The show Chairman Tony Burton commented that "The exceptional calibre of cattle brought forward to the show is a credit to the exhibitors and reflects both the skill of the breeder and the quality of the genetics used".
Senior cow in milk judging