AN OPEN
HOLSTEIN SHOW
Friday
28th October 2005
2005 NORTHERN EXPO JUDGE – BRIAN GARRISON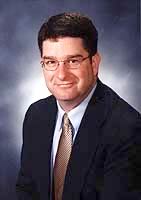 Brian Garrison
We are pleased to announce that Mr Brian Garrison has agreed to be the judge for this, our 23rd Northern Expo Holstein Show. Brian is a Dairy Science graduate of the Ohio State University, and lives in Tiffin, Ohio with his wife Ann and three children.
Brian has over 18 years of experience in the AI Industry. He is considered by many as one of the really outstanding "cow men" in the industry today. He is in demand world wide as a dairy judge and has presented many breeding and marketing seminars.
Brian judged the International Holstein Show at World Dairy Expo in 1997, and was the associate judge in 1994. Also at World Dairy Expo Brian has judged the National Jersey Show 1998, National Brown Swiss Show 1996 and 2000, National Milking Shorthorn Show 2000, and the National Red and White Holstein Show in 1999. He has judged almost all the major shows around the would, including National Holstein Shows in Canada, The Holstein and Swiss show (2x), Expo Milk in Brazil, UK National Show in 1999, German Open Holstein Show, National Holstein and Swiss Show in Switzerland, Hokkaido Spring Show in Japan, National Holstein Show in France, Brown Swiss Show in Quereturo, Mexico and Holstein International Dairy Week Show in Australia.
Brian has also given presentations in Canada, Latin America, Italy, Czech Republic, Austria and New Zealand. Along with Brian's distinguished judging career, he has worked extensively consulting many large commercial herds and he appreciates the profitable commercial cow as well as the show cow. We look forward to seeing Brian in October and convey our thanks to Semen World/World Wide Sires for sponsoring his visit to our show.